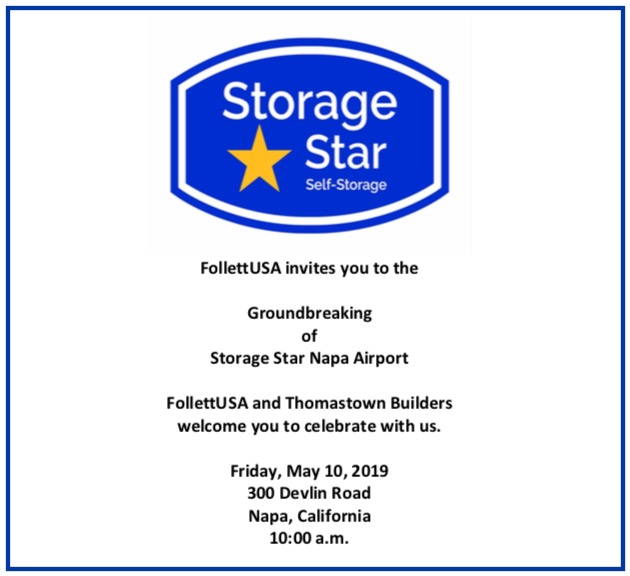 FollettUSA invites you to the Groundbreaking of Storage Star Napa Airport.
FollettUSA and Thomastown Builders welcome you to celebrate with us.
Friday, May 10, 2019 | 300 Devlin Road Napa, California | 10:00 a.m.
Storage Star is a leading owner and operator of self-storage assets in the Western U.S., Rocky Mountain Region, and Texas currently operating 20 self-storage properties with more than 12,000 units and 1.6 million rentable square feet. Storage Star are a vibrant, growing company with ambitions to be one of the leading self-storage operators in the United States. For more information please visit our website: www.storagestar.com.
About FollettUSA
FollettUSA is a California-based boutique real estate firm investing in high quality income-producing properties with the goal of generating tax-efficient income, long-term equity capital appreciation, wealth preservation, and estate planning efficiency. Since its founding in 1989, high net worth families and institutional investors have entrusted FollettUSA to develop, acquire, manage and maintain institutional quality residential communities, self-storage facilities, and investment properties for their private portfolios. For more information please visit FollettUSA's website: www.follettusa.com
About Thomastown Builders Inc.
Thomastown Builders Inc. have been constructing and managing boutique style self-storage facilities across Northern California for 30 years. They are family owned and operated, and headquartered in Roseville, CA. Learn more about Thomastown Builders Inc. at https://www.norcalselfstorages.com.